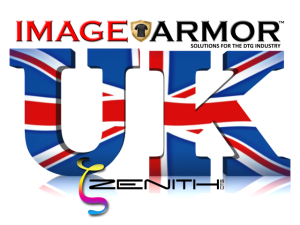 Zenith DTG is proud to be appointed as a new UK distributor for the Image Armor products.
Located in the South West, this family based company with many years experience within the garment printing industry and DTG refurbishments are soon to unveil their own DTG printer the Apex along with the newly developed Sprajet pretreatment machine.
According to Darryle Langford the "prices of DTG printers, inks, pretreat machines and consumables have for too long been out of reach for many potential DTG sector buyers, and our aim at Zenith DTG is simple, to provide you with quality products at a viable price!".
Darryle continue to say that the "Image Armor pretreats available as Light, Dark and Ultra expand printing capabilities beyond anything thought possible resulting in increased vibrancy, wash fastness and capability to print onto 100% polyester! The DTG revolution gets even better with the New E-SERIES inks, that are changing the industry with a true 35 seconds (max) cure time – no more unnecessary hold-ups at the heat press,."
Zenith "APEX" DTG Printer
Zenith DTG's newest printer is based on the Epson R3000/P600  and utilizes a pressurized ink system, and according to Darryle.  "We have built the APEX on a modular platform whereby the operator can swiftly change over the printer to allow maintenance be carried out whilst production continues".
You can learn more about Zenith DTG's new equipment and how Image Armor inks and pretreatments can help change and grow your direct to garment business.
Enquiries can call 01752 848433 or email to [email protected] or visit www.zenithDTG.com for more information.