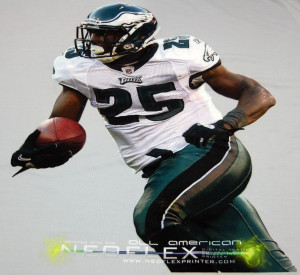 NEW WHITE INK DTG FORMULA WILL CHANGE THE INDUSTRY
Image Armor is proud to announce its new formulas for both Dark Shirts and Light Shirts is changing the direct to garment industry. Unlike anything else on the market currently, Image Armor takes the hassles of pretreating and minimizing them to help users achieve spectacular results with less worries of pretreatment failure.
Some of the new characteristics of Image Armor are:
New Formulation. This truly is a brand new formula for white ink DTG printing. It is unlike anything currently on the market and NOT a repackaging of any other pretreatment currently on the market.
Much wider application window. Though you can still apply too little pretreatment, there is no worries anymore of applying too much pretreatment which, with other pretreatments, will cause peeling, flaking, and poor wash-ability. Image Armor helps protect you from customer returns due to poor wash fastness.
Little to No Crystallization When Heat Pressed. Traditionally many users found that shirts might show white, crystalized flakes in the pretreated areas of the shirt when heat pressed. Image Armor helps reduce or totally eliminate this issue resulting in better looking shirts with no pretreatment marks.
Dark Shirt Formulas. Image Armor Dark Shirt Formula is for use on mid-colored to dark colored shirts when printing white inks. However, it can also be used when printing white ink on mid-colored to lighter colored T-Shirts.
100% Polyester Printing is Closer to Reality. Printing on 100% light colored polyester garments is actually now possible. Previous pretreatments would just wash off or give no performance on the popular 100% polyester performance fabrics. Image Armor helps close this deficiency by blowing the door wide open with awesome washability and much better color retention. Note, it is NOT a magic bullet, but a massive improvement over anything else on the market.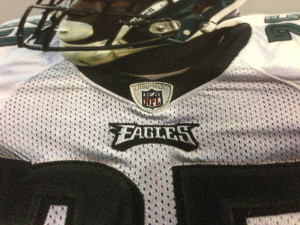 This image to the left is an extreme close up picture of a white DTG direct to garment print on a 100% grey polyester shirt. The detail held is incredible, and the white ink is WHITE on the shirt. As we have stated, Image Armor is not a magic bullet, and red based polyester shirts and some dark polyester shirts may still limit white ink opacity performance, though it is definitely an improvement. This opens the door for improved performance and more sales opportunities for everyone who owns a DTG garment printer.
Though there may be a residual area on the polyester shirt (especially on colored shirts) where the pretreatment was heat pressed, in our testing this visible mark does wash out. Image Armor is continuing to work to improve our formulas and bring our customers the best solutions possible. Our goal is to help you Protect Your Image.
And the best part is Image Armor is home brewed, developed and manufactured in the United States.