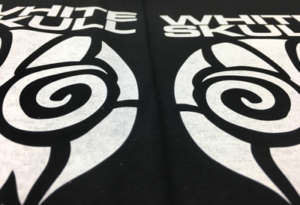 Over the past several months we have been testing the Image Armor ULTRA with Brother's white OEM ink. We wanted to present our findings with the industry.
In the past, we really did not effectively endorse using our Image Armor ULTRA dark shirt pretreatment with Brother OEM inks. However, in our most recent testing we found that there was virtually NO difference between the results of using Brother OEM pretreatment or Image Armor ULTRA Dark Shirt Formula.
We found that ULTRA gelled the white ink just as quickly and effectively as the OEM pretreatment.
Take a look at the picture below.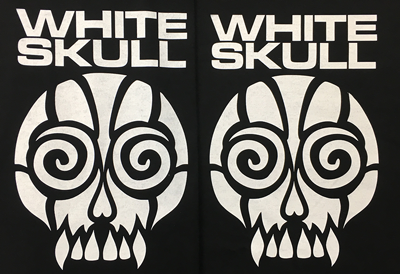 Photographed at the same time side-by-side, are you able to tell which is Brother pretreatment and which one is Image Armor ULTRA pretreatment? Although it is very difficult to discern any difference between the two prints on your computer screen, there is one that looks slightly better than the other (to give you a hint it is not the OEM). Click on the image to get a larger view to see the actual full results labeled at the bottom of the photograph.
We used the same shirt for each print – the Spectra Tees 3100 series black shirt. While using different pretreatments, we did apply the same exact amount and cured the pretreatments the same exact way on a Viper XPT-1000 pretreatment machine. Even the print itself was exactly the same. Below you can see our settings for the above print.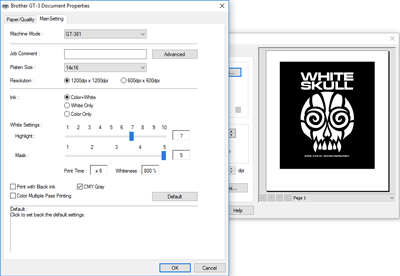 The Highlight was set to 7 while the Mask was set to 5. The shirts were printed immediately one after the other.
After printing, the ink was cured on a Hotronix manual heat press at 356F for 35 seconds using light pressure.
As cane be seen in the photo above, there was no real visible difference between the OEM pretreatment and using Image Armor ULTRA. This makes the ULTRA a great choice for Brother printer owners looking for a good alternative pretreatment that is ready to use – no mixing required.
If you have NOT tried Image Armor ULTRA yet, we want you to give it a try for FREE. This link will take you to a page talking about our Image Armor LIGHT Shirt pretreatment formula, but by filling out the questions and clicking that you use white ink we will also send a free quart of Image Armor ULTRA.
If you are not familiar with Image Armor LIGHT shirt formula for CMYK prints this pretreatment alls for printing on all types of fabrics from polyester to 100% cotton garments (for CMYK prints only). We know you'll be amazed at the results or we wouldn't be giving these samples away for free.
So, if you are looking for an easier to user pretreatment that requires no mixing, give Image Armor a try. You can find a dealer near you on our PURCHASE page.