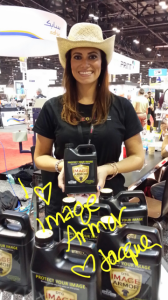 October 26th, 2013

Image Armor Takes SGIA by Storm
We just finished up the SGIA in Orlando this past week where Image Armor made its first "official debut" at a trade show.We were pleased to announce the release of the Image Armor product to the world and show them how it would be able to help them overcome many of the deficiencies that, up to this point, had made white ink DTG printing a hassle for many.

Many of those who stopped by the booth were impressed with the increase in wash ability of Image Armor. By extending the life of the white ink DTG prints by up to 50% or more over leading pretreatment brands, Image Armor is making DTG printing easier and more accessible.

All American was gracious enough to host Image Armor in their booth where we were able to hand out samples of the new "miracle juice" as some have called Image Armor. And a special thank you to Jacque the Image Armor Girl who helped handle the multitudes of people wanting more information.

Not only were we handing out samples of Image Armor, but Image Armor was used to help showcase the new Aeoon direct to garment printer that can print hundreds of shirts per hour with white ink.

Thank you to everyone who stopped by at SGIA to say hello, to those that have already tried Image Armor and loved it, and especially to All American for hosting us in their booth.