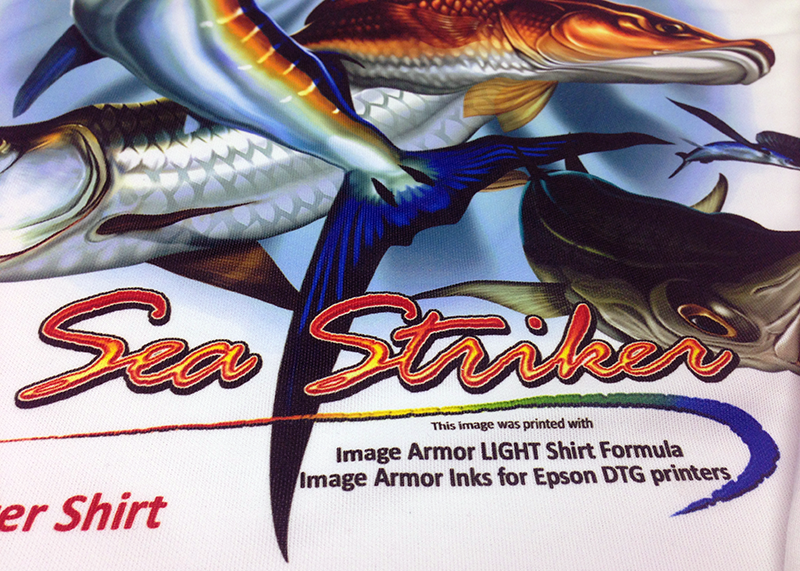 Image Armor, LLC is excited to announce that we will be releasing a new line of DTG inks for the direct to garment printing industry in 2015. What we did for the industry with our line of pretreatments we plan on doing again with our new CMYK and white ink sets.
Initially we will be releasing our CMYK inks for the modified Epson series of DTG printers. Both bulk and bag forms will be available for purchase however no pricing structures have been set at this point in time. Image Armor's goal is to bring more affordable, better performing inks to the masses to help the DTG industry grow. We see the future of our industry and it is much bigger than anyone can really imagine. The future of DTG starts right here in 2015.
As the new year progresses, we will be releasing the white ink for the modified Epson DTG printers as well as releasing ink sets for other brands of printers such as the Brother legacy printers (GT-541) as well as their new GT3 Series of printers.
The image above was printed on a 100% polyester shirt utilizing the Image Armor LIGHT Shirt Formula in conjunction with our new CMYK Image Armor Inks. The results really are that bright and bold and look as though it has been screen printed.
We are proud to be a part of the DTG printing experience and helping our customers find better solutions to help them be more successful in the direct to garment business. Image Armor is committed to finding Solutions for the DTG Industry.
We would love to hear what brand of printers and type of ink systems you would like to see brought to market first. So, let us know by using our Contact Us page.
2015 is going to be an awesome year for DTG! Happy New Year and thank you to everyone for making Image Armor the success that it is!