Image Armor LIGHT Shirt Formula is available now in 5 gallon CUBE containers.
This new LIGHT Shirt Formula increases vibrancy and detail while improving wash fastness for CMYK and White+CMYK prints. It is great for achieving sublimation like prints on white 100% polyester shirts  while increasing printing options on 50/50 blends and 100% cotton white and light colored shirts.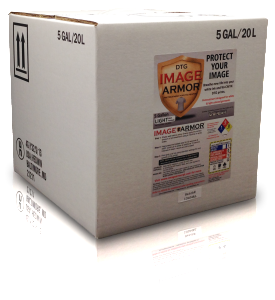 Stop wasting ink printing two passes to achieve good opacity. The LIGHT Shirt Formula boosts the vibrancy beyond anything you though achievable with DTG printing on your white and light colored shirts.
These 5 gallon CUBES are available from any authorized Image Armor Pretreatment Dealer.