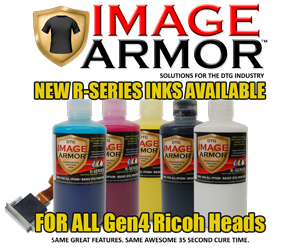 Image Armor is proud to announce the release of the new R-Series DTG inks for DTG printers that use the Ricoh Gen 4 printheads.  The R-SERIES inks carry on the legacy of our E-Series which include:
35 second white ink cure time – save time and make more money.
More productivity during printing and curing.
Incredible white ink coverage.
Increased wash durability.
Cost effective pricing in comparison to other DTG inks.
The biggest features DTG owners of Ricoh based print heads will find attractive is the 35 second white ink cure time. Ricoh Gen 4 heads can print faster than re-purposed Epson printers. The faster 35 second cure time helps improve production throughput when using a standard heat press to cure the inks.
The new R-Series DTG inks can be found by contacting one of our dealers that carry both the Image Armor Inks and Pretreatments.