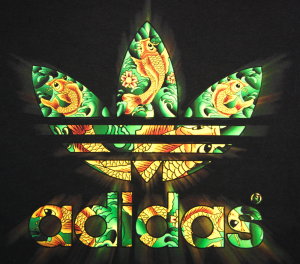 We here at Image Armor are constantly trying to improve our products, bring new products to our customers, and help our customers understand the various aspects of pretreating that are often misunderstood.In this article we are going to take a look at the wash fastness of Image Armor and the various amounts of pretreatment applied – and how those affect wash ability. In this test we are utilizing the following settings / items:
StarTee Apparel T-Shirt Style #2110. It is a 4.3 oz high thread count, smooth printing surface.
ViperONE pretreatment machine
Pretreatment: Image Armor Dark Shirt Formula
Applied grams for 14″x16″ area: 10g, 13g, 18g, 27g
Heat Press: Hix S650
Pretreatment Cure: High pressure, 330F, 2 x 20 second presses using Kraft Paper
Ink Set: IMAGE ARMOR F-SERIES
Design: Adidas Coy Fish
Underbase: White with black of shirt dropped out for fading effects
Single Pass White underbase, then print of CMYK
Cure of Ink: 330F / 2 x 90 seconds – registered pressure of 1 on heat press
The Image to the left/above is a photo of the image printed on the shirt, full image, pre-washed. This is our control shirt.
The Image to the right is an extreme closeup of the pre-washed shirt. This shows the incredible detail that direct to garment printing can provide, while showcasing the effectiveness of Image Armor Dark Shirt Formula.
We will be updating this post as we get wash test results after 1 wash, 5 wash, 10 wash, etc.
FIRST WASHING RESULTS 10/15/13

The above picture is after a single washing (all shirts laid next to each other and photographed at the same time – the lighting does give some variation in the shirt/print colors).  The far left image (Original) is the original shirt, unwashed, 18 grams of Image Armor applied. The middle is 10 grams, the right, 27 grams. There was no noticeable color loss or image quality loss on quality. We will be posting close ups at the 5 wash point as well as another photo like the above.
WASHING RESULTS: 2X – 10/15/13
Second washing and drying….. still no noticeable difference. Note, that a good quality shirt will definitely help your wash ability/fastness. We are experimenting with a new shirt (relatively new), the StarTee Apparel #2110 style. Seems to wash really well, and remains soft. Black remains black so far. Will report on this also the more we wash.

WASHING RESULTS: 6X – 10/16/13
Sixth washing and drying….. There was some color loss of maybe about 10% on CMYK colors, which would be relatively standard loss for those colors (and many DTG inks in general – which in this case has a complete white underbase under the image and thus therefore the CMYK ink is not being affected by the application of pretreatment. i.e. the loss of color is due to the nature of the CMYK inks and nothing to do with the pretreatment application). However, the pretreatment and white underbase is holding incredibly well and there are no signs of image breakdown. The 10 gram and 27 gram look exactly the same.

WASHING RESULTS: 10X – 10/16/13
Tenth washing and drying….. The image shows a closeup of the 10 gram and 27 gram side by side comparison (click on image to enlarge). Notice that the whtie underbase is still very much intact and no degradation of the shirt/white ink bonding due to the Image Armor pretreatment. All shirts have been washed with other clothing and shirts under normal conditions (hot/cold water and full heat drying).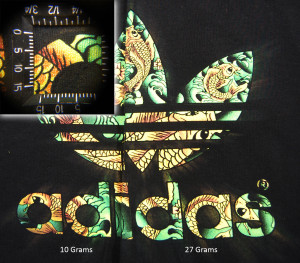 WASHING RESULTS: 15X – 10/21/13
Fifteenth washing and drying….. The image below shows the logo with the left side with 10 grams and right side with 27 grams of Image Armor pretreatment on the shirts. This is 15 washes into the test. Click on the image for a larger image.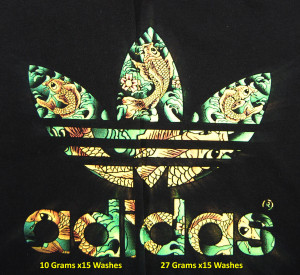 WASHING RESULTS: 26+X – 10/31/13
Twenty Six plus washing and drying….. The image below is a side-by-side of the shirts. As can be seen, the washability still has been great. The right side, is starting to have a little break down in some areas, however I believe I found the reason for this – the ink was only cured at 330F for 180 seconds and not the traditional 350F for 130 seconds for the Dupont ink. Still, the image looks great for having been washed this many times and is still up for more to come.