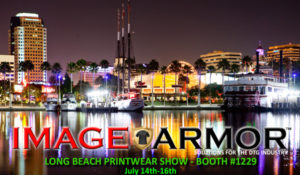 JULY 14th-16th, 2016
Mid-summer is coming quickly and so is the Long Beach NBM Printwear show. If you have not been to a show lately, make sure to come and see what's new – especially in the Image Armor booth. We will be showcasing how Image Armor can definitely change the way you pretreat and print DTG garments.
Come see how our LIGHT Shirt Formula can help you print incredibly vibrant, detailed, and wash fast white and light colored 100% polyester shirts as well as improving your dark shirt DTG printing.
For new comers who've never tried our pretreatments, we will have samples there we will be giving away, so make sure to stop by and see how you can change your DTG business in 2016!