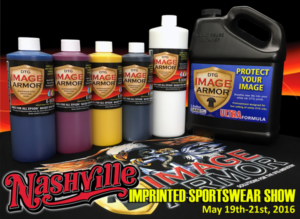 The Nashville Imprinted Sportswear Show is coming up quickly and we wanted to invite you to the show! Visit the Nashville Convention Center May 19th – 21st and come and see why Image Armor is changing the industry. Find out how Image Armor can help your DTG business be more profitable this year.
You can see the difference that our pretreatments make, how we can improve your quality of prints on white, light, and dark garments as well as how you can branch into doing other types of fabrics like polyester.
For new users who have never tried Image Armor pretreatments we will have samples we will be giving away. Who knows – we might even give away some of our industry changing E-SERIES inks while we are in Music City USA!
Come and see us in booth #107 – we look forward to seeing you there!