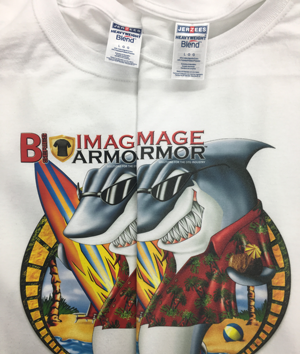 Things are progressing very well with the B-SERIES of Image Armor inks. The B-Series are the latest DTG inks for the Brother GT series of direct to garment printers. We are really working hard to make sure the B-Series competes and excels in color intensity, wash and price points for everyone who owns a Brother series garment printer.
The sample image to the left shows the difference too what printing with the B-SERIS of inks can do in conjunction with our Image Armor LIGHT Shirt pretreatment. Both shirts are printed on Jerseys 50/50 29M t-shirts but the left side is pretreated with Image Armor LIGHT. The right side has no pretreatment.
While the right side still looks good, you will see an amazing transformation using the LIGHT Shirt formula that improves image sharpness and color intensity. Generally polyester blends will have colors that are muted but combining our B-SERIES inks with the LIGHT Shirt Formula the shirt print is taken to the next level.
More information will be coming soon in regards to the Brother inks and the official release date and price points.