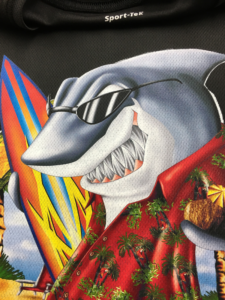 We thought this would be a fun little print to show that you can print 100% black polyester fabrics with the Image Armor Series of DTG inks. This design was printed on a Brother GT3 with the soon to be released B-Series inks. We pretreated the polyester fabric with Image Armor Ultra and heat set under the heat press. We didn't press it, but just hover cured. Then, we maxed out the white ink settings in the Brother, and printed….. Came out looking great.
As you can see in the picture, the image was printed on a Sport-Tek ST340. Image Armor is opening up a world of new possibilities for EVERY major DTG printer on the market.
We will try to post a video of the process soon to show, yes, you can print polyesters with the IA ink sets.