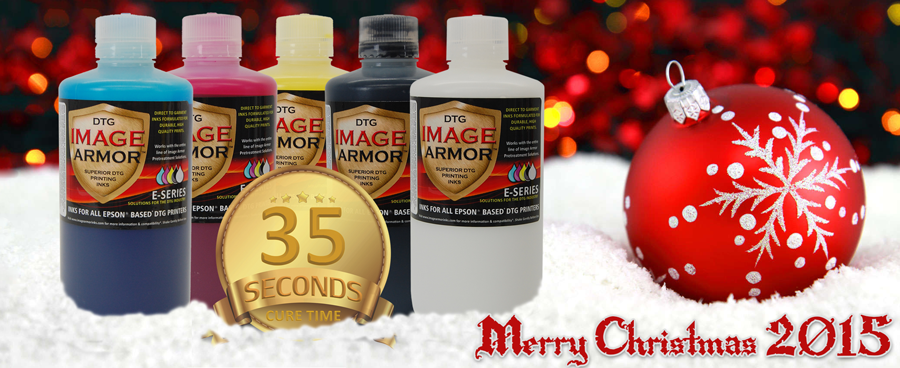 It's the 12 Business Days of Christmas Give Away!
Image Armor is going to be giving away 12 complete change over kits of our popular E-SERIES inks starting December 9th, 2015!
That's right – giving away complete ink change over kits…. It's our way of saying Merry Christmas to twelve lucky people!
So , if you've been thinking about changing over to Image Armor but haven't had the time, or have just been waiting, now is the time to make the jump! Selected individuals will be chosen to receive a complete change over kit. It's our way of saying MERRY CHRISTMAS!
This kit will include 1 liter of E-SERIES white ink, 1 liter each CMYK, 1 gallon of ULTRA dark shirt pretreatment for white inks, and a 1 liter of our Image Armor CLEANING Solution to flush out your old inks. Everything you need to start using our inks if you use a bulk ink system (this is the only way we are giving away our inks is in bulk – no bag systems – sorry).
One lucky individual per day will be selected and revealed starting December 9th, 2015 and a new one selected each business day thereafter until December 24th, 2015.  The earlier you enter, the more opportunity you have to be selected – so don't wait until the 23rd of December….. that just means you missed the previous 11 gifts given!
HOW DO YOU QUALIFY?
To be eligible you must meet the following:
Have a legitimate DTG business and web site – we verify both or you might end up on the NAUGHTY list.
Have never used Image Armor E-SERIES ink – but want to try them at NO COST (again – liars end up on the NAUGHTY list)
Must send us last 3 copies of invoices showing the "competitors" inks you've purchased (prior to November 26th, 2015)
Must send a picture of you and your DTG printer in your shop. You don't have to wear a Santa hat – but it makes it more fun! And, with the winners permission we will be posting pictures daily of our winners!
You must reside and have your business in the United States.
Fill out and send in the form below.
We will be selecting individuals from our list of recipients, and your chances of being selected depend on how many people sign up. This is NOT a contest, but do sign up early to have more chances to be selected! If you've been thinking about switching to Image Armor, take a chance on being able to do it between Christmas and New Year's this holiday season.
[Contact_Form_Builder id="10″]