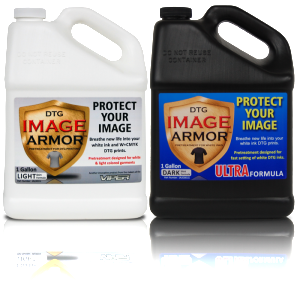 We often get the question about our DTG pretreatments and 100% polyester printing in regards to how well the printed shirts hold up in the wash. Typically non-pretreated polyester fabrics will results in very poor quality prints that are fuzzy and do not wash well. However, when properly pretreated with the correct pretreatment you can achieve sublimation like looking DTG prints.
An interesting aspect of this article is that we utilized 100% white polyester garments pretreated with both the LIGHT Shirt formula as well as the ULTRA Dark Shirt Formula. Normally we would never utilize the ULTRA on a white or light colored garment as the pretreatment would yellow the shirt when heat is applied. However, we've discovered it appears that this is only in garments that have natural fibers in the fabric. On fabrics that have 100% polyester content we have achieved great results with both the LIGHT and ULTRA pretreatments. We do however still encourage all users to do testing prior to any production run to ensure they are achieving the results they desire.
This option of using either LIGHT or ULTRA pretreatment will ultimately open up additional avenues of printable garments for the DTG decorator. It will allow the choice of using either the LIGHT Shirt Formula or the ULTRA Shirt Formula. In our test we applied 18 grams of pretreatment to the Sport-tek ST350 white 100% polyester shirt and heat cured that pretreatment for 35 seconds at 330F. The shirts were printed with our Image Armor E-SERIES DTG inks though we have also successfully achieved the same results with other ink sets. The E-SERIES inks were then cured via heat press for 35 seconds at 356F with light pressure.
As can be seen in the photo (click on the side-by-side comparison for a much larger version) there was minimal loss of actual color after 15+ washes of the garment. These were washed with Tide detergent with hot water and then dried on the hot setting.
So, if you want to achieve sublimation like prints with your DTG printer and do not have a sublimation system in your shop, try utilizing the Image Armor LIGHT Shirt Formula or ULTRA pretreatments to increase your DTG offerings to your customers. Now you can achieve great wash results with your direct-to-garment printer on 100% white polyester fabrics without the fear of them washing our or looking blurry.
You can find an Image Armor dealer near you by visiting our Purchase page.