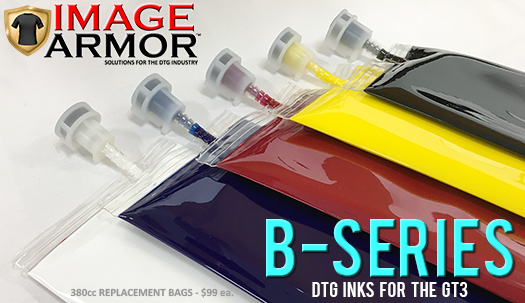 Print More. Pay Less. GT3 Replacement Inks
Image Armor is proud to announce the release of the new B-SERIES DTG inks for the GT3 line of DTG printers. Easy bag replacement and $99 per bag makes printing with this DTG workhorse even more profitable. View More...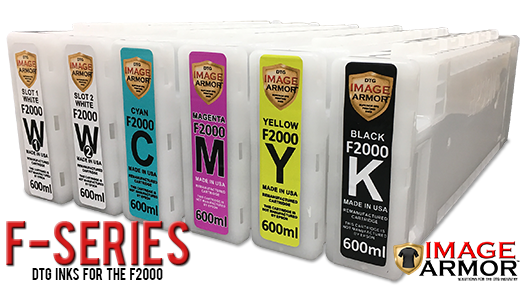 Save Time. Save Money. 35 Second White Ink Cure Time: The NEW F-SERIES DTG inks are replacement cartridges for the Epson F-2000 DTG printer. Featuring our popular 35 second white ink cure time and a savings of 30% over OEM inks - these are a must have addition to your DTG print business... Read more.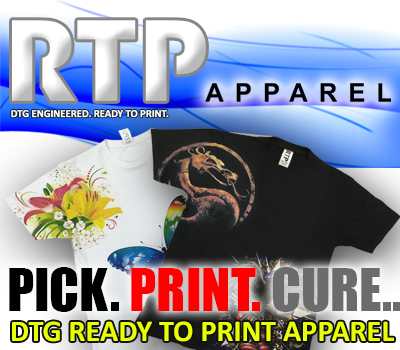 Tired of DTG Pretreating?
Tired of pretreating shirts? Yeah... we understand. This is why we partnered with RTP Apparel to help produce the industry's most influential product for 2017. A T-Shirt that is READY TO PRINT. Just Pick. Print. Cure... SEE MORE.
NEW! DTG Capping Station Solution
New CAPPING STATION solution will help keep your DTG printer HAPPY! Works with all DTG water based ink sets.
Learn How To Put More Money Into Your Pocket
See how much more money you can put into your pocket instead of someone else's simply by switching your inks to Image Armor E-SERIES inks. LEARN MORE.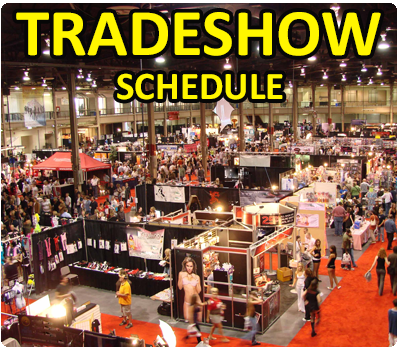 See Image Armor at a Trade Show Near You
Long Beach Printwear
Date: August 2nd-4th - Booth #1014
Place: Long Beach, CA Convention Center
Las Vegas MAGIC - Sourcing
Date: FAugust 12th-15th
Place: Las Vegas Convention Center
Meadowlands Printwear
Date: August 23rd-24th
Place: Meadowlands NJ Convention Center
New RTP Apparel Shirts Use Image Armor

RTP Apparel has partnered with Image Armor to create the DTG Industry's first DTG engineered Ready To Print shirt. No pretreatment is required - see the difference why you want to use RTP Apparel infused with Image Armor Pretreatment. 
Customer Testimonials

This is an actual Custom Testimonial from a trade show. Rich talks about using Image Armor LIGHT Shirt Formula pretreatment with his Brother GT-381 DTG printer.

Image Armor Pretreatments are CPST Compliant
Image Armor, LLC is proud to announce that the complete line of Image Armor Pretreatment products are in compliance with the 2008 Consumer Product Safety Improvement Act. What this means is that there are absolutely no heavy metals used in the manufacturing of the Image Armor products making its use safe for use on products to be used by children under the age of 12. SEE MORE