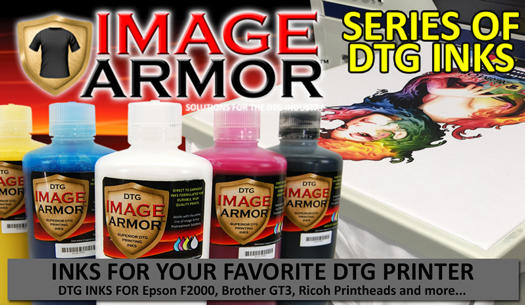 New DTG Inks for Your Favorite Printer 
Image Armor is proud to announce that we will soon be releasing inks for each of the Brother GT3, the Epson F2000, and all Ricoh Gen4 and Gen 5 printheads. Save more, print less and be more productive with Image Armor inks. View More...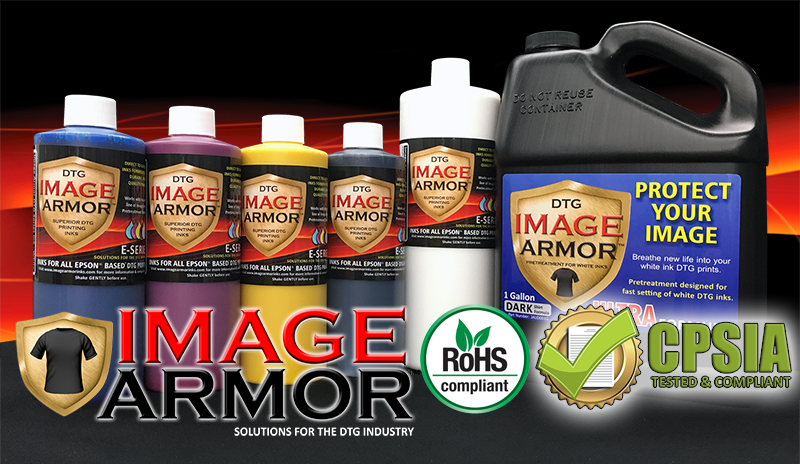 What's in Your Ink and Pretreatment?: Image Armor Inks and Pretreatments have been tested and found to be CPSIA and RoHS compliant. What does this mean? Well, the products are safe for use on products for children ages 12 and under - no lead, mercury, arsenic, etc. Why is this important?... Read more.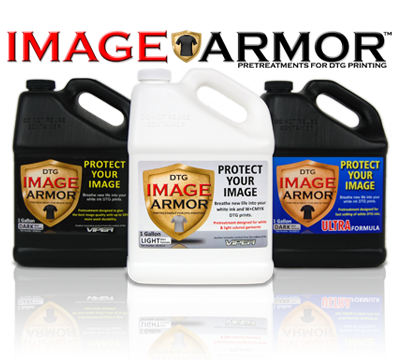 Image Armor Products
Image Armor has a complete line of pretreatments to make your job of printing DTG shirt easier. Find out how our pretreatments and cleaners can make your shop look better and run smoother... SEE MORE.
New E-SERIES Inks – 35 Second Cure Time
35 second white ink cure times, cleaner capping station & wiper blades, and better performance in a DTG ink. Learn more now! 
Learn How To Put More Money Into Your Pocket
See how much more money you can put into your pocket instead of someone else's simply by switching your inks to Image Armor E-SERIES inks. LEARN MORE.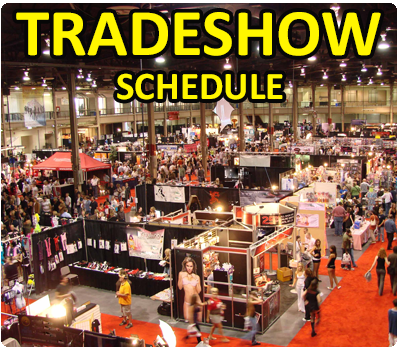 See Image Armor at a Trade Show Near You
ISS Nashville, TN - Booth #107
Date: May 19th-21st
Place: Music City Convention Center
Indy Printwear, IN - Booth #
Date: June 2nd-4th
Place: Indianapolis Convention Center
Does EVERY Shirt Really Need To Be Pretreated?

Though many people will say that you don't need to pretreat a garment if you are just printing a color image (no white ink) we believe that there are too many benefits that you will want to pretreat EVERY shirt you print..
Customer Testimonials

This is an actual Custom Testimonial from a trade show. Rich talks about using Image Armor LIGHT Shirt Formula pretreatment with his Brother GT-381 DTG printer.

Image Armor Pretreatments are CPST Compliant
Image Armor, LLC is proud to announce that the complete line of Image Armor Pretreatment products are in compliance with the 2008 Consumer Product Safety Improvement Act. What this means is that there are absolutely no heavy metals used in the manufacturing of the Image Armor products making its use safe for use on products to be used by children under the age of 12. SEE MORE