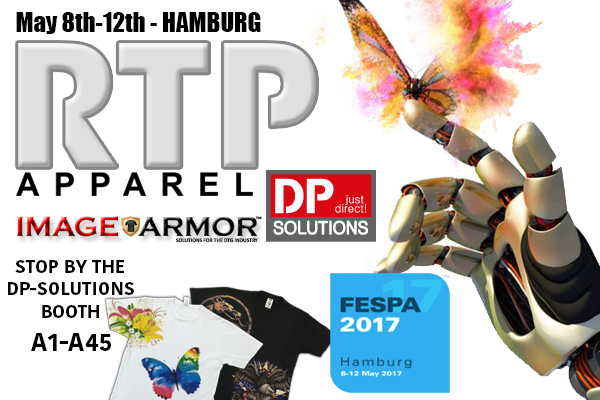 If you are going to the 2017 Hamburg FESPA make sure to stop by booth # A1-A45 to see the latest in DTG.
DP Solutions (Booth A1-A45) will be giving away samples of the most innovative new DTG Shirts to hit the industry in years. RTP Apparel shirts are completely ready to print – requiring NO PRETREATMENT prior to printing. You can print ANYWHERE on the garments – front, side, back, sleeve, etc. Just heat press to get rid of the moisture prior to printing.
In addition, you can check out the Image Armor inks and pretreatments for that have advanced the DTG industry with fast 35 second white ink cure times and better wash durability.
So, make sure to stop by Booth A1-A45 and talk to Wolfgang or any of his staff in the DP Solutions booth to find out how you can change your DTG business in 2017.