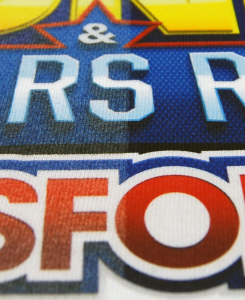 GET FINISHED PRINTS THAT LOOK LIKE HIGH END SCREEN PRINTS WITH A DTG PRINT
Traditionally the standard 50/50 shirts has not been a great product to print with the DTG process. Untreated shirts would have very weak, fuzzy, and non-bright images. The pretreatments that were available on the market were extremely expensive and were mainly dedicated to just 100% cotton shirts. Some previous formulas just diluted a dark shirt formula or utilized a CMYK only formula that would not also work with white ink.
Image Armor Light blows all of the previous realities of printing 50/50 blends out of the water with incredible results that just have to be seen to be believed.
The new Light Shirt Formulation of Image Armor builds upon our knowledge of our successful Dark Shirt Formula. We approached the problem of a Light Shirt Formula from the aspect of the end user. We asked ourselves "What would WE WANT in a Light shirt pretreatment?".
Image Armor Light Shirt formula takes these characteristics and brings to market an incredible product.
Works with 100% White Polyesters, White and light colored 50/50 shirts and white and light 100% cotton shirts
No staining or "burning" or shirt color shifts that are common with other pretreatments.
Printing with only CMYK produces great results
Printing White + CMYK also works great
Super easy to apply either by hand or by automated machine.
It is Ready-tTo-Use right out of the container
As can be seen in the following picture there is a SIGNIFICANT difference between untreated and treated shirts. Our example below is printed on a Jerzees 29M 50/50 white t-shirt. The left side has NO pretreatment while the right side has the Image Armor Light Shirt Formula. We laid down 15 grams of pretreatment and heat set for 2 presses of 20 seconds each. Then, we just printed the default CMYK ink settings. As you can see, the results are dramatic.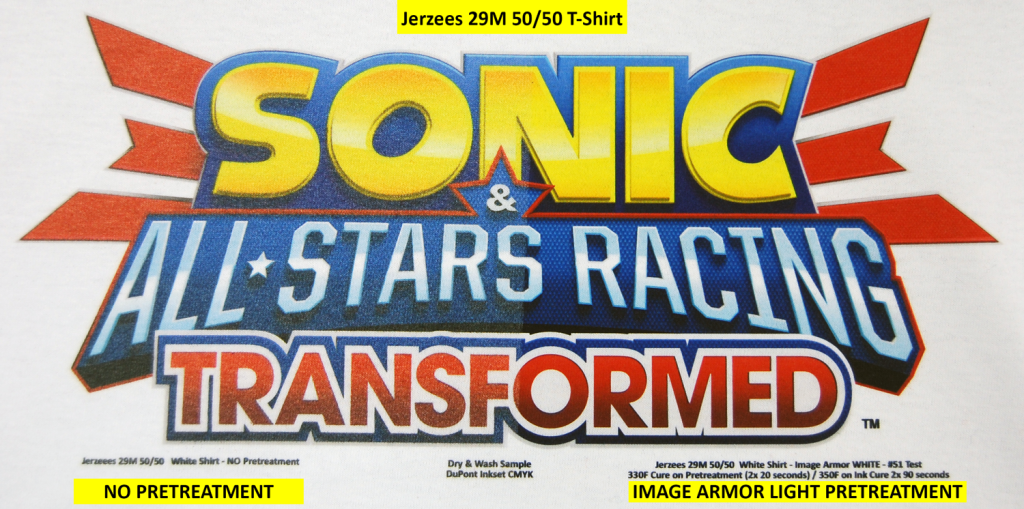 The question now becomes…Why would you NOT pretreat every shirt – including white 50/50 or 100% cotton shirts? With Image Armor Light Shirt Formula the visual and washability difference is incredible. These improved characteristics raise the level of quality you are giving your customers and will result in higher end customer satisfaction. And that brings customers back to you again and again.
Image Armor Light is Ready-To-Use and will be available from all of our distributors December 1st, 2013.