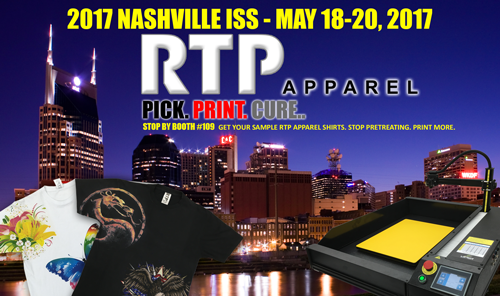 The Nashville ISS is this week – May 18th-20th – and i-Group, Image Armor and RTP Apparel will all be there showing what we have new in the industry. Check out all three companies in booth #109.
We will have a Viper XPT-1000 in the booth showing the new Touch screen unit. The XPT-1000 make pretreating easy with the new digitally controlled spray length and speed control via the intuitive touch screen interface. This unit is for pre-sale prior to the show for $3500 (That's a $500 savings over the normal $3995 price it currently sells for). Interested individuals should call i-Group Technologies at 877-673-4378 prior to the show to reserve their unit.
Image Armor will also be handing out free samples of our pretreatments to new users who have never tried our product before but want to see how our pretreatments can change the way you print.
RTP Apparel will also be handing out sample shirts that require NO pretreatment at all. So make sure to stop by our booth and say hello, see what is new and we look forward to seeing everyone in Nashville this year! DTG is changing and we plan on leading the charge!