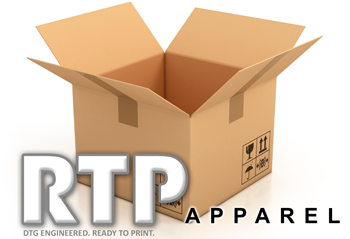 Image Armor is proud to announce that our partnership with RTP Apparel has resulted in the new DTG Ready to Print garment shirts are now shipping in Sample Paks. RTP Apparel is a new venture tasked with removing the job of pretreating shirts for direct to garment printing. The new RTP Apparel garments are engineered from the threads up to be ready to print – the entire shirt is pretreated. You can print on the front, back, side, sleeve – even inside of the shirt with your DTG printer.
The Sample Paks contain 2 white shirts and 2 black shirts – ready to print. Just pull the shirt, heat press for 10-20 seconds to remove all moisture and then print. That's all there is to it. No messing with pretreatment anymore.
And you know that the shirt will work. RTP Apparel utilizes the Image Armor pretreatments giving you the best possible DTG printing surface and interface possible.
Find our more by visiting RTP Apparel's website or you can sign up to purchase your Sample Pack at www.rtpapparel.com/register and then place your order!