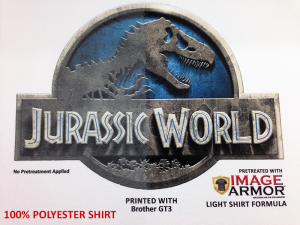 100% POLYESTER PRINTING WITH IMAGE ARMOR
Maker sure to stop by our booth at the Long Beach Printwear Show July 23-25th. Image Armor will be in Booth #932 on the end aisle and you can check out this incredible print in person. We printed this on a 100% white polyester shirt and only pretreated the right side of the shirt with Image Armor LIGHT Shirt Formula. The left side was untreated and we then printed the image onto the shirt to show the contrasting difference of printing on our LIGHT Shirt Formula vs untreated 100% polyester.
We think the results speak for itself. And yes, if you have any direct to garment printer be it a Brother, Epson, or re-purposed Epson, you can use our LIGHT SHIRT Formula to get results like this….. it looks almost like sublimation – but off your DTG printer.
We look forward to seeing you at the Long Beach Show!