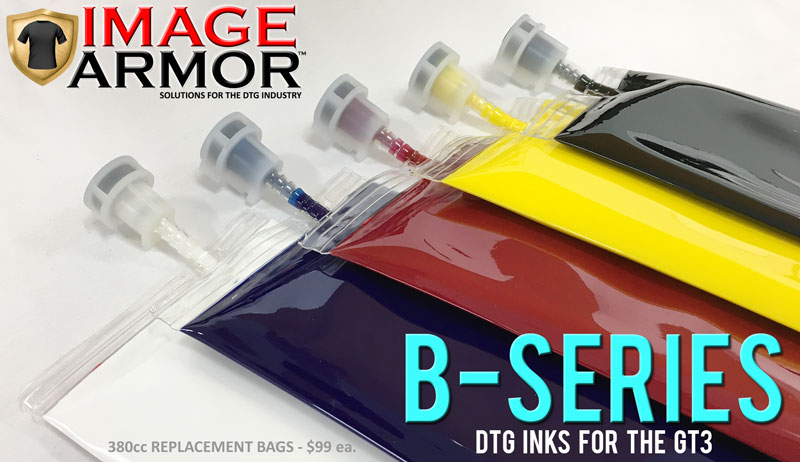 Image Armor B-Series Inks Now Available in Canada Through DTGInkCanada.com
The Image Armor B-Series inks, which are a third party ink solution for the Brother GT3 DTG printer, are now available in Canada through DTGInksCanada.com based out of Manitoba. These inks feature the same cure time and color characteristics of the original OEM inks.
The B-Series inks are a drop in bag replacement and not an entire cartridge. The original OEM cartridges are used, opened and the original OEM bag removed. The new 380cc B-Series bags are inserted into the cart, the cartridge is then closed up and used in the printer like normal.
It is highly recommended to not mix the OEM and Image Armor B-Series Inks and the white inks should be replaced when the weekly flushing routine is finished and white ink is ready to be reloaded into the printer. The CMYK can be loaded behind the OEM and filled with an Initial Cleaning. See our PDF on converting the B-SERIES Inks Conversion Document – PDF Version.
For more information and to purchase visit www.dtginkcanada.com or by calling 204-505-5440.