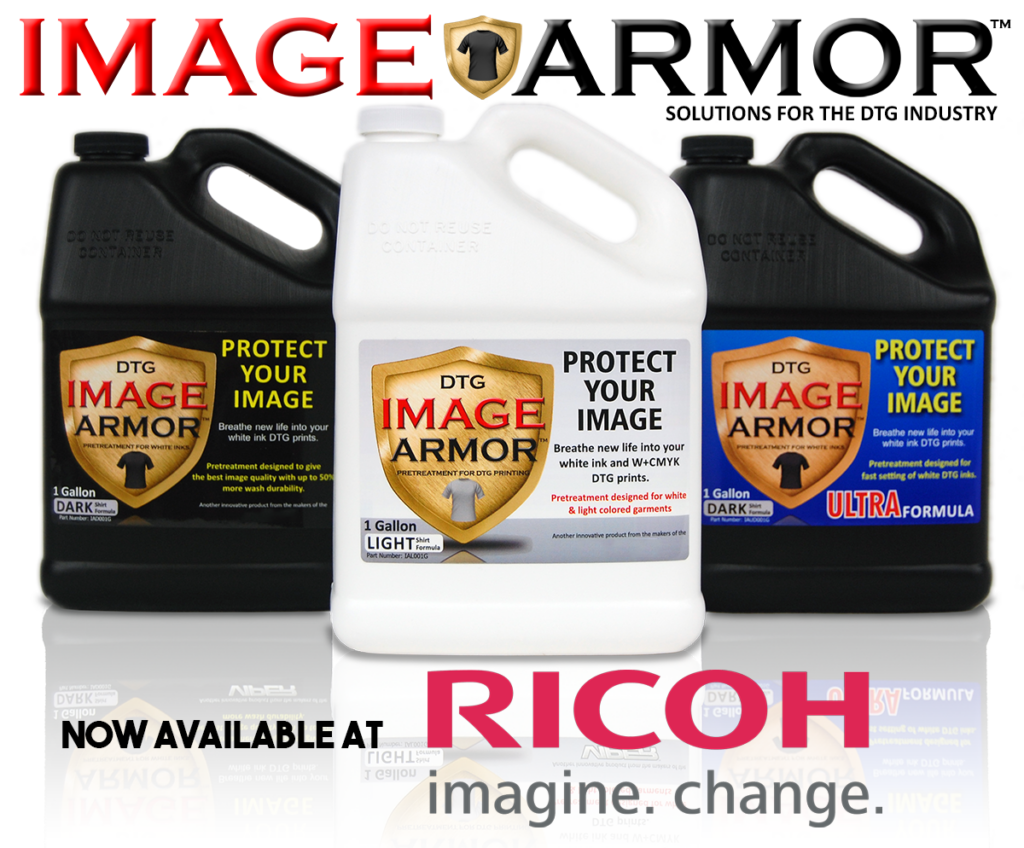 TRY BEFORE YOU BUY OFFER!
GET FREE SAMPLES OF IMAGE ARMOR LIGHT AND ULTRA SHIRT FORMULAS
Image Armor is so confident that our DTG Pretreatment Solutions can make a difference in your shop that we are willing to send to you a free sample quart of the LIGHT Shirt and ULTRA Dark Shirt pretreatment formulations. All you have to do is fill out the form below completely and we'll send you some of the DTG Industry's leading pretreatment solutions at NO COST.
Ricoh and Image Armor have teamed up to make the offer to you because we know that using and applying the proper pretreatment can make your DTG printing successful. The Image Armor LIGHT Shirt formulation is designed mainly for CMYK only printing on white and light colored garments. It will give you brighter colors, more vibrant details and better wash durability. The ULTRA Dark Shirt Formulation is designed for colored and black garments where white ink is printed giving you incredibly fast white ink gel times and better wash durability with a wider pretreatment application window that most other pretreatments.
Just complete the form below completely and we'll send out your pretreatments as quickly as we can. After you've had a chance to receive the pretreatments and try them out someone will followup with you to see how you liked the Image Armor family of pretreatment products. We know you'll like the ease of use and how it makes your DTG printing more successful and your prints look better – that's why we are doing this FREE offer.
We look forward to helping you grow your DTG business with Image Armor Pretreatment Solutions!